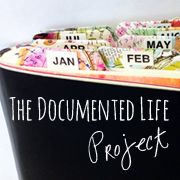 Add a 'selfie' on our weekly journal page was the challenge for the second week. It has been so interesting to see how so many creative people interpret the challenges differently. There are over 3000 participants in the project so far (how amazing is that?! kudos to the 5 artists who put it together!) No two pages are alike and everyone has different ideas and inspirations.
Some journalers use their pages like a sketch or art book and take time to create their piece. There were drawn and painted faces; realistic and whimsical. Some incorporated photos, realistic and altered. I like to journal intuitively, letting a natural creative flow create the page. Whatever is in my head often gets put down on paper, whether or not it is relevant. More playing than planning. I like it that way. When I am finished I feel the bit of creative release.
My 'selfie' photo came in the form of a visitors pass from school. I returned home and just stuck in to a sheet of painted waxed paper. I added some stitching, collage, paint and markers. While I don't have a specific word of the year, there are a few cliche sayings that I like to live by. No Fear and Live Without Fear are two of them.
My journaling/paper area is encroaching on my fabric and quilting area. One big happy, creative mess (where of course I know where everything is.)
Johanna